Naturaw is a family run company based near York in North Yorkshire. We're not interested in any corporate nonsense,  we're just a group of humans incredibly passionate about our pets. Nowhere more is this displayed than by our desire to feed them the best diet available… raw (which we think is pretty impressive seen as there are several vegetarians amidst our ranks).
In 2010 Jess completed a degree in Equine Science at Lincoln University where she elected to complete modules on animal nutrition, learning and training, and anatomy, alongside her equine studies. We were prompted to change all the families pets to a raw diet when our beloved Ridgeback Louis was suffering with chronic ear and skin infections, we switched between several brands of dried foods, with varying degrees of improvement, but nothing really cleared it up. After taking the plunge to raw, Louis no longer had any of the dark itchy skin on his belly, nor was he constantly shaking his head and scratching his ears. We have never looked back, and since added many new furry faces to our family both feline and canine, all of whom are positively thriving on their species appropriate diet.
Continues below….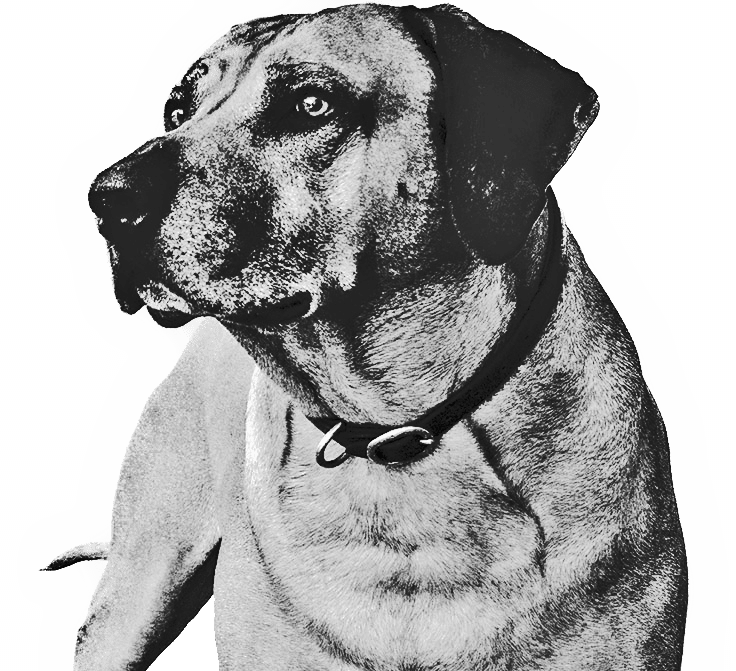 The best, better
Raw food is the best food for your dog without question. But our burning desire to push the boundaries, to do things better through a commitment to sustainable packaging and ethically sourced premium cuts of British ingredients drove us forward to create the best raw food we could give our beloved dogs. These standards are a huge part of who we are and is the key driving force and ethos of both our business and us as human beings.
After a couple of years as a retailer of raw food, deep down our passion was always to create something truly special of our own that we could stand behind 100%. So, in Late 2015 we moved in to our first dedicated premises in North Yorkshire and launched our range of raw food made in our own production kitchen.
Produced completely in-house, we crafted every aspect ourselves using our experience and knowledge as raw feeders. From the chunky mince made from quality cuts of only high welfare and ethically sourced British meat, to the beautiful totally compostable packaging that we're incredibly proud of – packaging that we strongly believe is labelled to an unbeatable standard in clarity, transparency, and quite simply helpfulness. In addition, we are incredibly proud to have launched the first raw pet food in the UK to be organically licensed (OFG).
Demand for our range proved unprecedented, after moving firstly to a larger base in hessay york,in 2017, the business relocated again in 2021 to a state of the art 20,000 sq foot complex at thorp arch, wetherby, where you'll find us now.
In the autumn of 2021 we invested heavily in a brand new production line at thorp arch; enabling a significantly upgraded our amazing packaging to stay ahead of the competition and better fulfil the increasing demand for quality raw dog food across the uk.
Looking forward, the business has grown exponentially since launch, now supplying over 150 independent raw feeding stockists and 7,500 customers right across the uk from the scottish highlands down to the channel islands.
In May 2022, we were immensely proud to officially become the first raw dog food manufacturer in the entire world to be awarded B-Corp status. Testament to our unrivalled commitment to build a better business for our customers, our staff, our community and our planet.
A few months later we took the additional step of installing a huge solar power system on the roof of our manufacturing facility in Yorkshire. This powers our raw food production with 100% renewable, self generated electricity from the sun.
Non of this would be possible without the loyalty, dedication and passion for all things Naturaw shown by our fantastic staff, customers and suppliers; we thank each and every one of you.
The Rawvolution has only just begun.
Meet our team
Want to meet the team behind Naturaw? We have a pretty unique set up where we craft everything ourselves from start to finish. We plan the recipes, source the best ingredients available, develop our sustainable packaging materials, create our gorgeous designs, and all importantly produce and distribute your raw dog food.